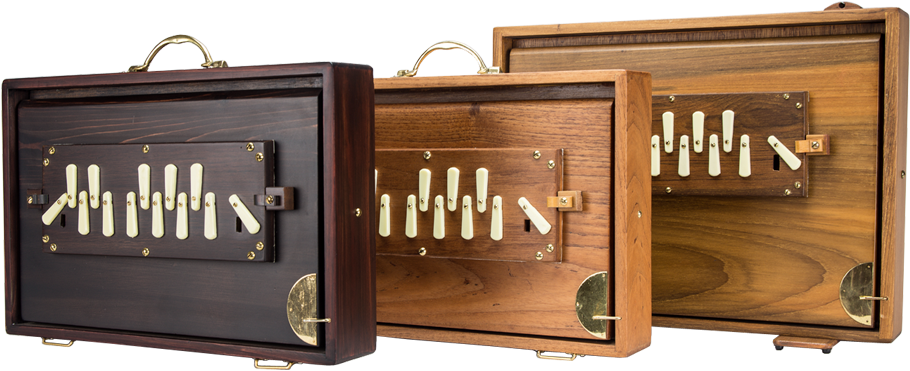 Our instruments
We produce three different Shruti Box models, available in keys: C, A# and Low G. The mid-sized M1, has become a much-loved favourite since its launch in 2007 and is popular with singers, sounders and meditators. Alternatively, for a different look and sound, the M2 offers a nice option. The M3 was developed as a perfect match for the Bowring foot pedal. The largest in our range, it enables smooth, hands free playing for string, wind, handpan and percussion players.
Our instruments are made to an unrivalled high standard. This is evident in the craftsmanship, the fine attention to the smallest detail, and the quality components we use.
Main Features
Sound quality
All our Shruti Boxes are made from solid woods chosen for their acoustic properties. They are fitted with the finest grade metal reeds to produce a clear, detailed and harmonious tone.
Musical range & Pitch
Each instrument has a thirteen tone, equal-tempered, chromatic scale keyboard, corresponding to the notes of the piano. The reeds are fine-tuned as standard to A=440 Hz concert pitch at our workshop in the UK. We can also retune and voice Shruti Box reeds to A=432 Hz. This service can be purchased in the shop.
Creative expression
The accessible keyboard design allows you to create chords in any key and sustain them for as long as you like. To do this, simply turn the keys which cover each tone hole and change the chord. You can also create percussive rhythms by applying subtle pressure on the bellows board or by tapping the wooden body.
Dynamics control
This unique design of our bellows spring system offers smooth control over sustain and sound levels, from loud and strong through to soft and quiet.This makes playing easy and satisfying.
Craftsman finish
Each Shruti Box is hand-crafted to our specifications by our partners in India. Small variations in the wood grain and colour add to a unique individual character. Every detail of our instruments, including precision mechanical parts, have been developed and refined for function, beauty and tone.
Build quality
Our instruments are designed and built to meet the rigorous demands of the performing musician. Treat your Shruti Box well and it will give you many years of service and pleasure!
Carry case
An elegant black carry case is provided with each instrument for transportation and storage. The lap-top style case features protective inner padding, handle, shoulder strap and inside pocket.
User guide & Chord chart
Each instrument comes with a user guide and chord chart featuring the most popular drone chords for the specific tuning you choose.
Portability
With a size similar to an average laptop computer and a weight of 2.6 kg, the M1 and M2 instruments are light enough to play on your lap or play standing using the carry handle. The slightly larger M3, at 3.8 kg. can also be played on the lap.
Low Maintenance
Our Shruti Boxes require little or no maintenance. If a reed requires adjustment we have made it simple and easy for you to do this yourself using a custom made tool and step-by-step instructions. These are included with each new instrument.
Warranty & Aftercare
We give a 14 day satisfaction guarantee on all instruments purchased directly from us. If you are not 100% satisfied with our instrument within this period you are welcome to return it for a full refund or exchange. For extra peace of mind we include a full 12 months parts and labour warranty. For out of warranty instruments we offer a full repair and maintenance service charged at reasonable rates.